FAQ
How to size the nails?
About the ruler,
If you don't have the tape ruler, you can also download ruler app to measure directly with your phone. It's easy and quick!
For iOS, We recommend the app 'Ruler: Measuring length' without In-App purchase and AD.
For Android, 'Ruler'
Tips
It's always better to size up than down so you can file away the edges for a better fit but can never add material back!
Don't forget to check both hands – lots of times nails on one hand may be different sizes!!
The Good news is most brands sizing is consistent so if you know your tip sizes from one brand they should match ours!.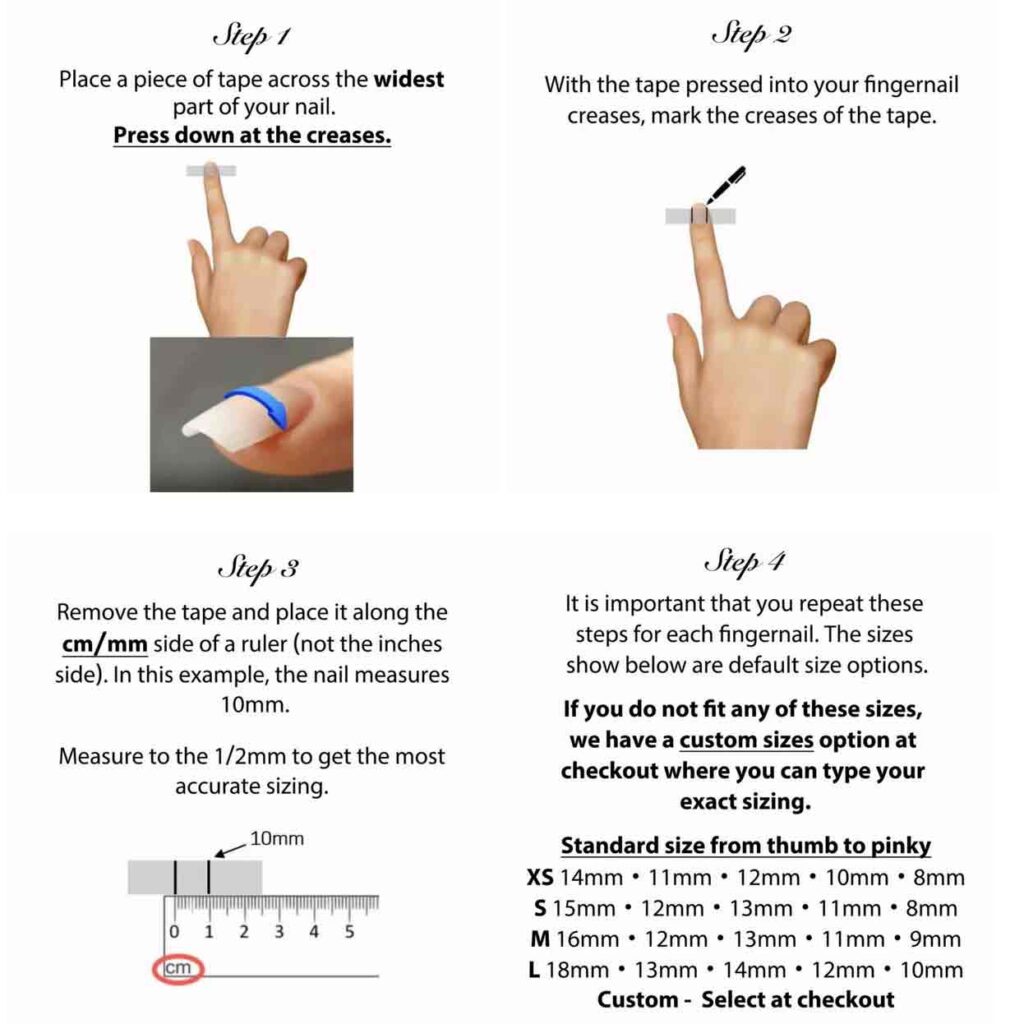 How about the length and shapes of nails?
We mainly support coffin, stiletto, square, almond and oval with available length of short, medium, long and extra long.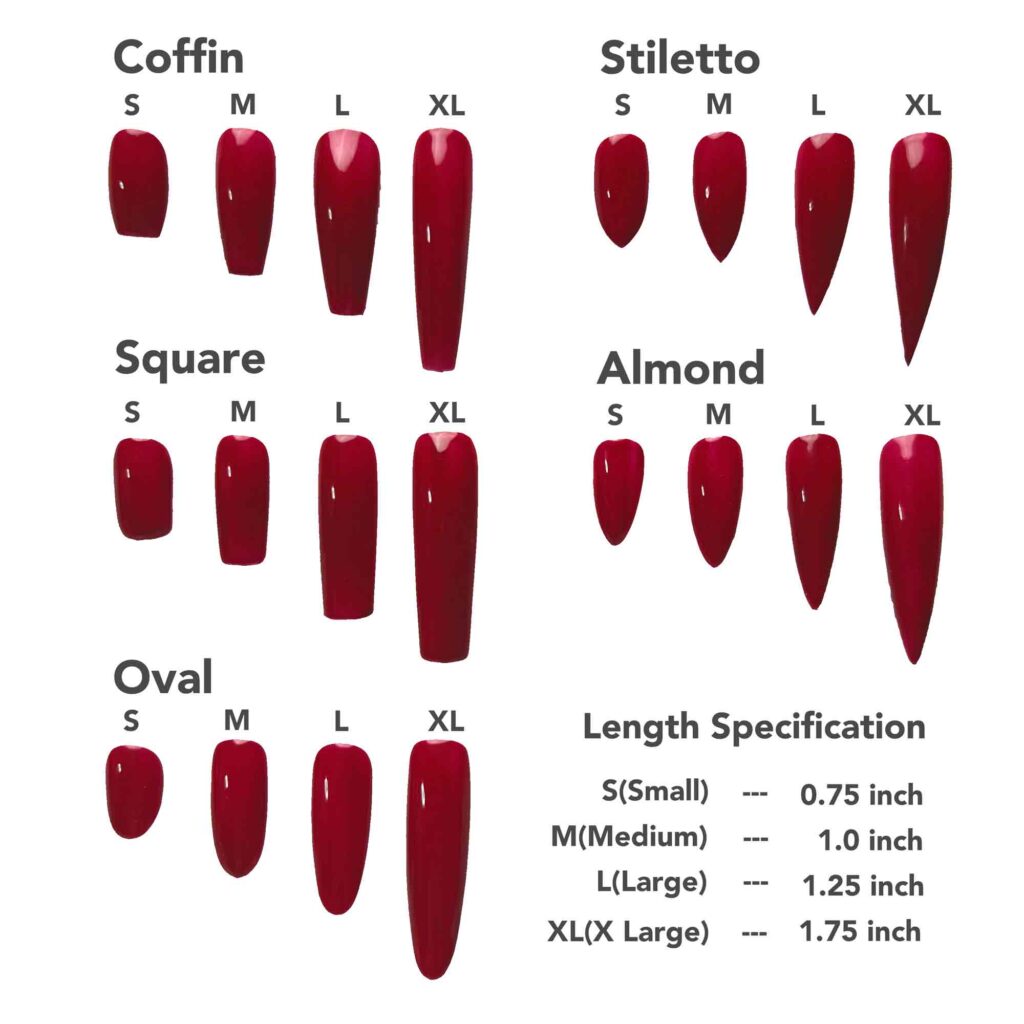 How long can your press-on nails last?
It can last for around one month, and even longer with proper care, thank to using the premium gel polish that protects the nail from being easily faded, dulled or chipped.
How to properly care with my press on nails?
Here are some tips on how to properly care for your press-on nails to make them last longer:
Prepare your nails: Before applying press-on nails, make sure your natural nails are clean, dry, and free of any oils. Use a nail file to lightly buff your nails to create a slightly rough surface that will help the press-on nails adhere better.
Apply carefully: When applying the press-on nails, make sure to apply them carefully and evenly. Press down firmly and hold each nail for a few seconds to ensure they stick properly.
Avoid water soaking: Avoid getting your press-on nails wet for at least four hours after application of adhesive tabs. Early water touch can weaken the adhesive and cause the nails to lift or fall off.
Use gloves: If you need to do heavy household chores or any activity that involves chemicals, wear gloves to protect your press-on nails.
Be gentle: Avoid using your nails as tools or picking at them, as this can cause them to lift or break.
Remove carefully: When it's time to remove your press-on nails, soak them in warm water for a few minutes to loosen the adhesive. Then gently lift them off, using a nail file or cuticle pusher if needed, to avoid damaging your natural nails.
By following these tips, you can help your press-on nails last longer and maintain their appearance. More details see our blog HERE.
Adhesive tabs or glue?
We suggest adhesive tabs that are ultra-slim, water-persistent and time-proof sticky, thank to the new generation product, like 3M adhesive tabs. It is also easier to take off the press-on from the adhesive other than the glue that may break the press-on if you don't peel it carefully. After the adhesive fully takes effective, it can even bear to peel the fruit and touch water for chore.
Tips
It is best to meet the water after at least 4 hours you applied the adhesive. Too long time water soaking (like hours of swimming) can also weaken it and cause the nails to lift or fall off.
To Remove Press-on Nails That Are Attached With Adhesive Tabs
1. First, apply rubbing alcohol or an alcohol-based hand sanitizer around the edges of the extensions and wait 30 seconds – This helps loosen the adhesive tabs.
2. Next, gently rock the extensions from side to side to lift them off your nail beds – You can apply more rubbing alcohol throughout the process until the press-ons come off.
3. Once they're off, give the backs of the press-on nails a quick wipe down with rubbing alcohol to make sure you fully remove any remnants of the adhesive. This will keep them in good condition so you can reuse them.
Remove Press-on Nails That Are Attached With Glue
1. Start by soaking your hands in warm soapy water for five minutes. This will help loosen the glue.
2. Next, apply any sort of oil you have on hand – like olive or coconut oil. The oils will seep into the spaces between and further loosen the glue. Plus, it gives your nails and cuticles an extra boost of hydration.
3. Last but not least, use the same gentle rocking motion to lift the press-ons from your nail beds. If needed, you can soak your nails for a while longer or apply more oil, so they slide off more easily.
Which countries do you support to deliver?
US, UK, Canada, EU countries, Australia, New Zealand, Japan, Singapore, Brazil, Israel
If your country is not in the list, please contact us via (email info AT froninail DOT com, or direct msg Instagram and TikTok)
How long does the order process and transit to deliver to me?
Order process for hand made, 15-20+ days for the order within 1-3 nail sets, and more days for more sets. Order process for hand painting, 15-20+ days.
Any urgent needs, please order at least two weeks, or contact us via Instagram message!
Generally, days for transit,
US, 6-9 days
Canada, 6-9 days
UK, 6-9 days
EU countries, 6-9days
Australia, New Zealand, 6-9 days
Japan, 5-7 days
Brazil, 13-26 days
Israel, 6-9 days
Holiday and peak seasons would be subjected to longer time.
The our parcel delivery status in USPS will have several phrases,
First,
Info Received – it usually lasts for around 3-5 days, which depends on your locations and USPS processing speed at that time;
Second,
In Transit – it usually lasts for around 2-3 days, which depends on your locations, some remote areas may last longer;
Third,
Out for Delivery – it usually lasts for around 1 day;
Totally, it will last for around 6-9 days to delivery to you. The time will become longer when it meets holidays or other high peak seasons, like July – August.
Under some conditions, USPS or other Post service carriers may fail to delivery, eg. when your house or apartment doesn't have the NUMBER, which will cause them to fail to deliver according to their own policy. We will not be responsible for this failure.
Should I pay VAT under IOSS (Import One Stop Shop) if I live in EU?
Yes, if your receiving address is at EU. The VAT rate differs from country to country, ranging from 17% in Luxembourg to 27% in Hungary (eg. Germany – 19%, France – 20%). We will collect it from 1st July when you check out.
The Import One-Stop-Shop (IOSS) provides an electronic portal created to centralize the declaration and payment of VAT for distance sales of imported goods (with a value not exceeding €150) for overseas-based sellers.
The IOSS means the consumer/shopper is only charged once, at the time of purchase, so there are no surprise fees to pay when the goods are delivered, unlike current methods (DDU and some DDP solutions) where the customer will be charged the import VAT and admin fee in order to receive their shipment. The VAT rate will be the one applicable in the EU Member State where the goods are to be delivered.
Can I return my press-on nails?
Not refundable after the first 24 hours of ordering. Any custom products CAN NOT be returned and exchanged. If you wish for cancel your order, please contact us info AT froninail DOT com within 24 hours of your purchase.
What payments do you support?
Instant pay
Stripe's debit and credit card, PayPal, Apple Pay, Google Pay.
Pay later
Afterpay
How comfortable about your press-on nails?
Our press-on nails bring about effortless comfort, thanks to the versatile nails that has resilient body to be non-brittle, and strong nail tip to be chip-proof, plus importantly ultra-slim nail rear to bring more comfort by seamlessly meet the natural nail.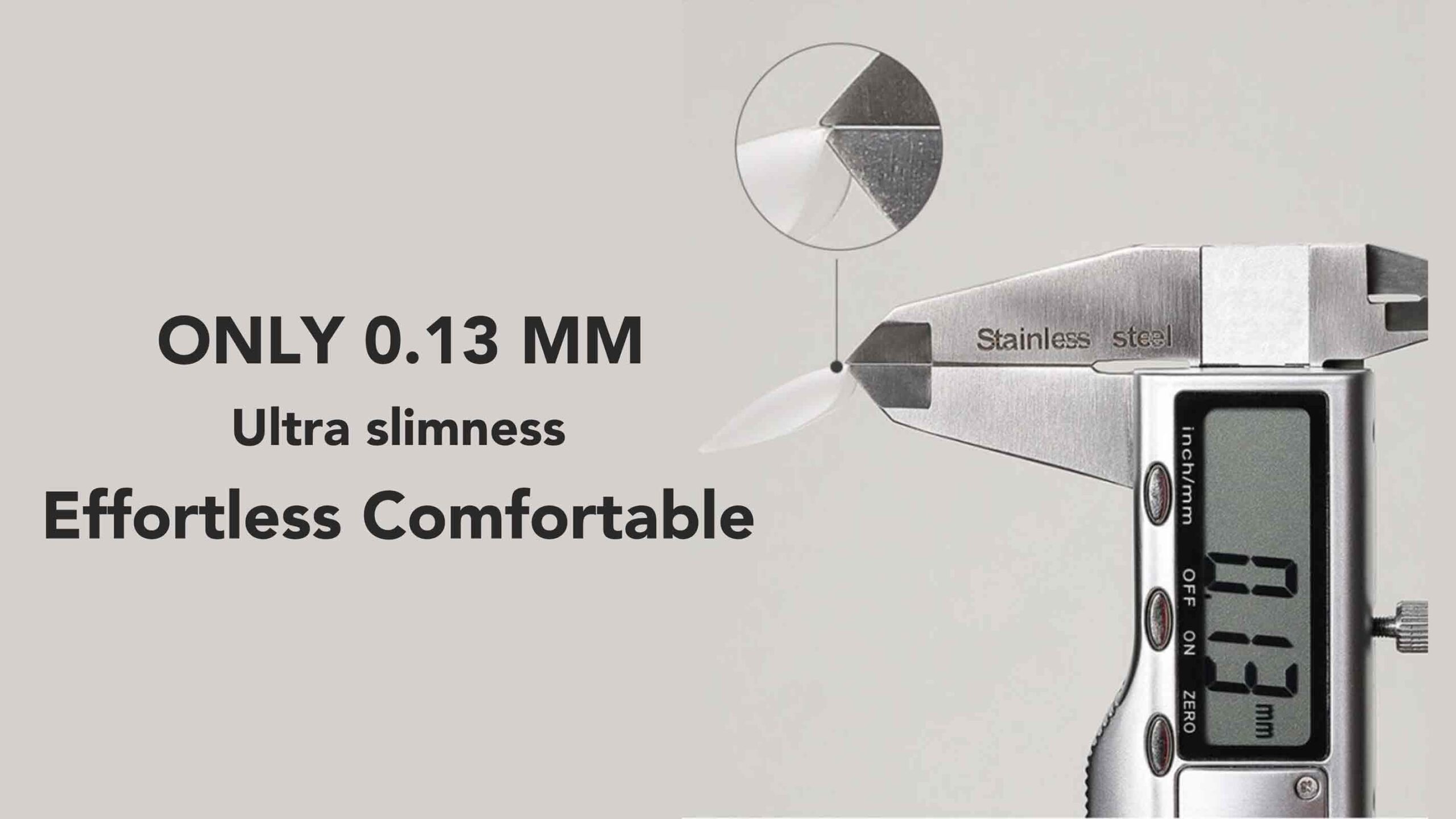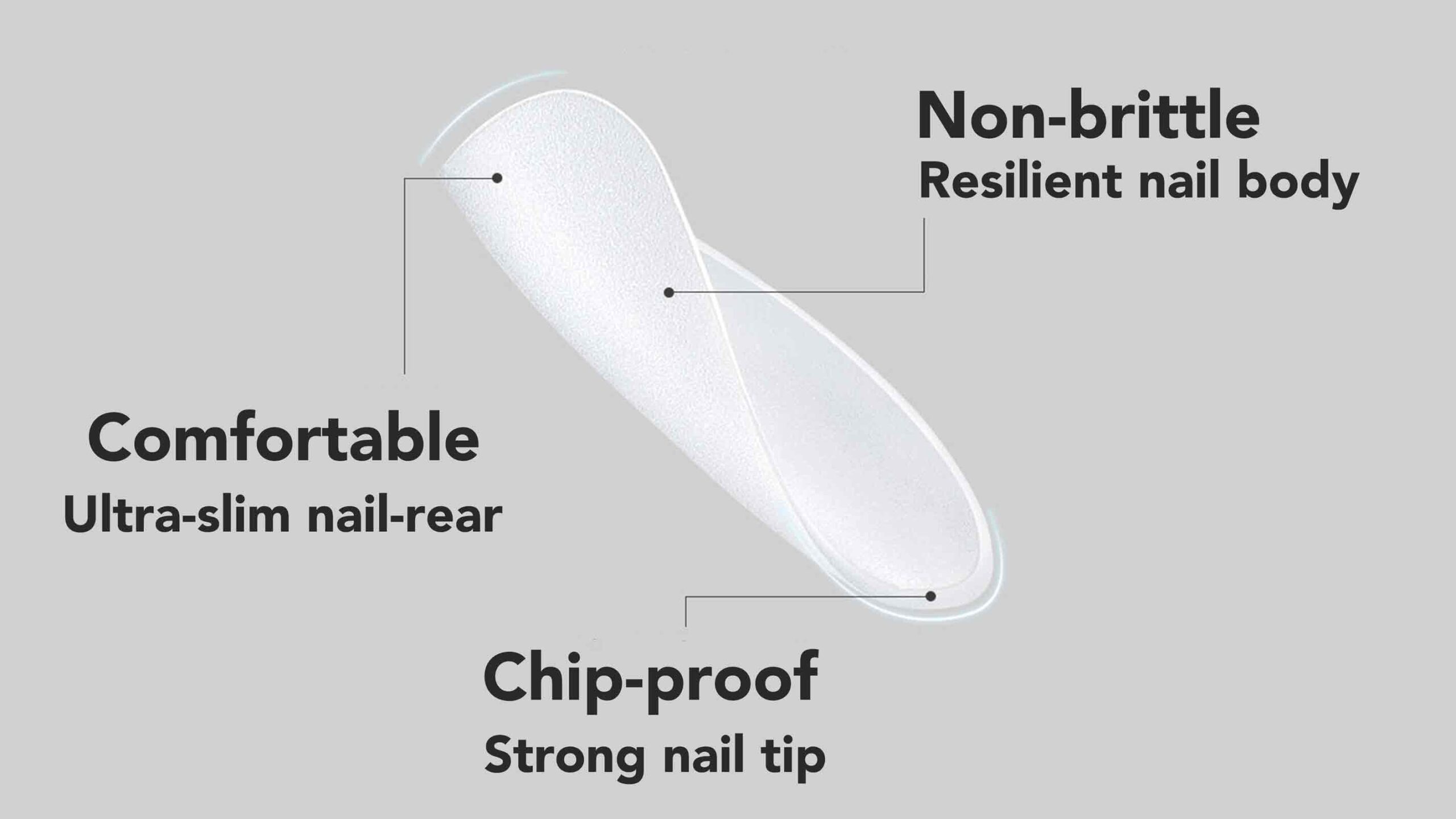 What are included in my product package?
Package includes
1. Your nails
2. Emory boards for prepping, nail files
3. Wooden stick for pushing back cuticles
4. IPA alcohol cleansing pads
5. Sheets of nail adhesive tabs and a glue
How can I activate the nails that can glow?
Some nails can glow unless a lamp or an UV flashlight activates them. You can activate them before you wear.