Inspired by the pastel painting, the boisterous and loving Timon with wonderfully expressive eyes paired with a matching velvety texture, being better demonstrating your individuality and playfulness. Whether you're heading to a party or just want to spice up your everyday style, these nails are sure to make a statement and bring a smile to your face.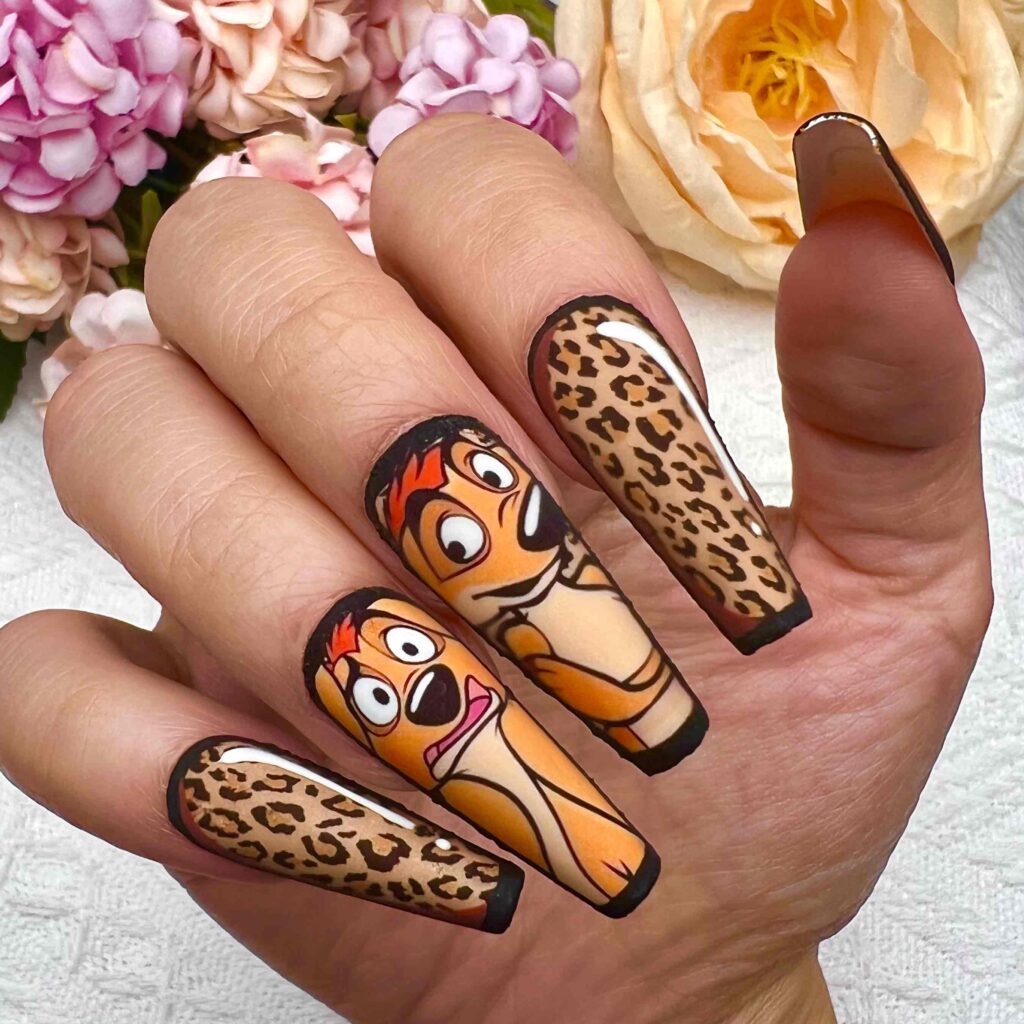 Well hello there, fashionistas and jellyfishing enthusiasts! Have you ever found yourself jellyfishing with SpongeBob and thought, "I wish my nails looked as cute as those jellyfish"? Well, fear not my friends, because the solution has arrived – the cutest SpongeBob Jellyfishing accented press on nails! These nails are so adorable, even Patrick would give up his beloved rock to wear them. So, let's get ready to jellyfish with style and sass, because these nails are the ultimate catch of the day!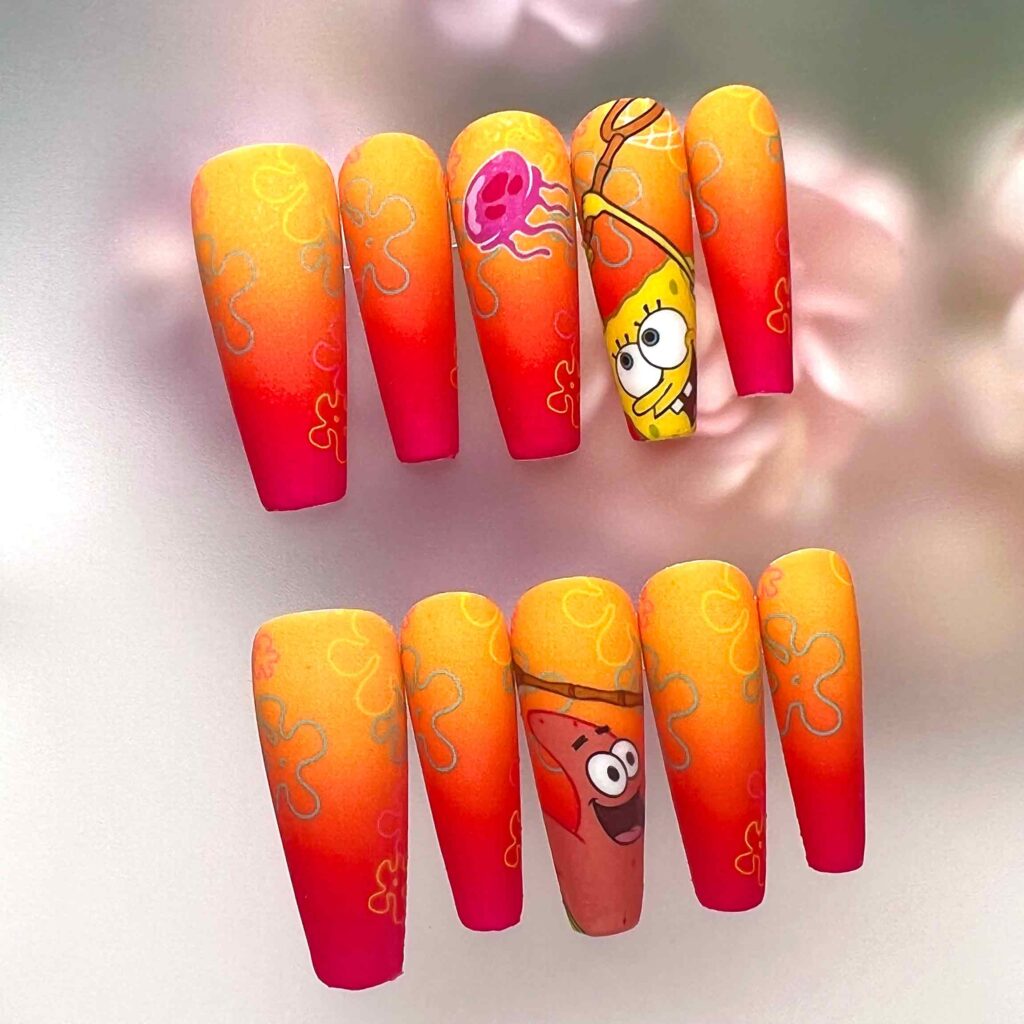 Ladies and gentlemen, get ready to add some va-va-voom to your nail game because the Luscious Jessica Rabbit accented press on nails have arrived! These nails are so stunning, they'll have you singing "I'm not bad, I'm just drawn that way" all day long. With these nails, you'll have the confidence and allure of Jessica Rabbit herself – and who wouldn't want that? So, grab your favorite red dress and get ready to turn heads with these gorgeous nails!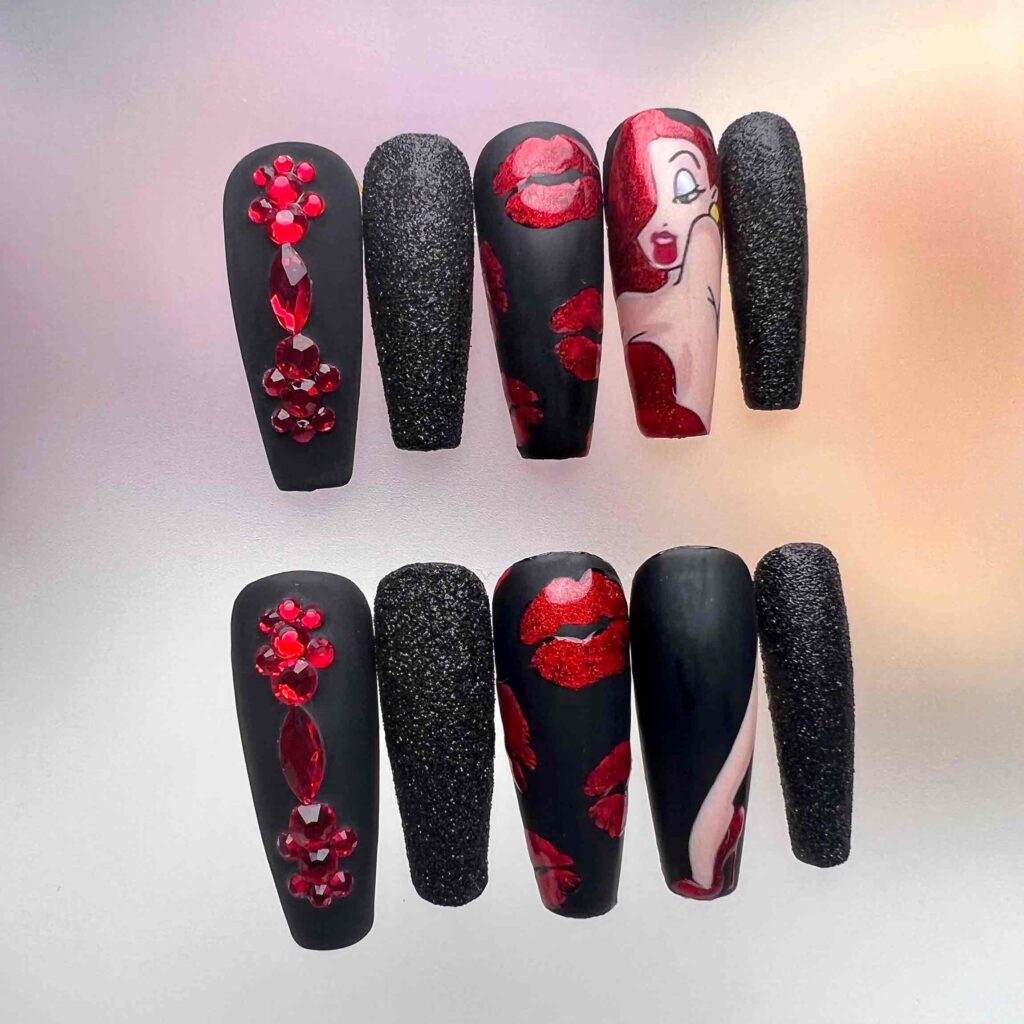 Welcome to the jungle, where the nails are fierce and the giraffes are even fiercer! Introducing the cutest tropical vibe of giraffe accented press on nails – the perfect accessory for when you want to feel wild but still look polished. These nails will have you feeling like the queen of the savannah, strutting your stuff with confidence and style. So why settle for plain old nails when you can unleash your inner animal with these adorable giraffe accents? Get ready to roar with laughter and show off your claws!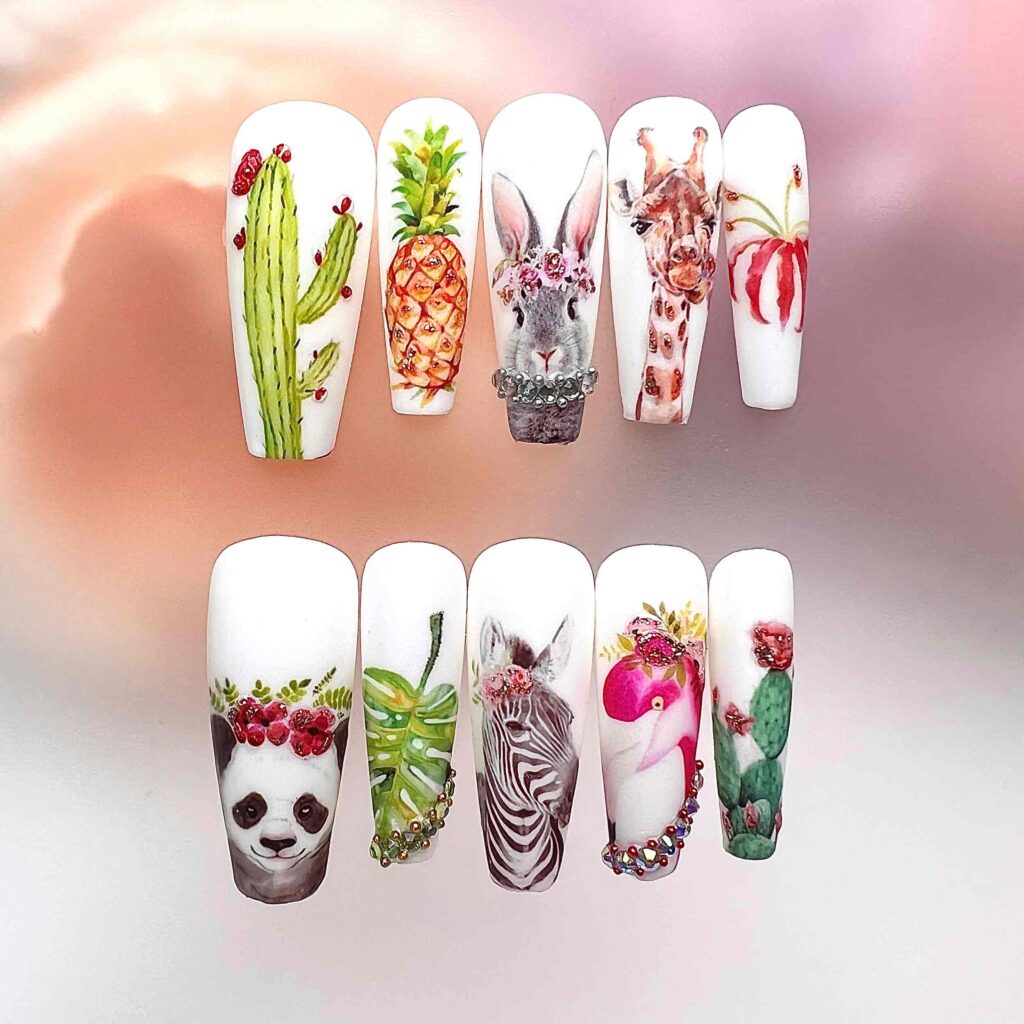 Ladies and gentlemen, gather around and prepare to be dazzled by the cutest Olaf you have ever laid your eyes on. And if that's not enough to get you excited, he's also sporting a set of frosted glitter press on nails that would make even the most glamorous snow queen jealous. This snowman is definitely ready to sleigh all day!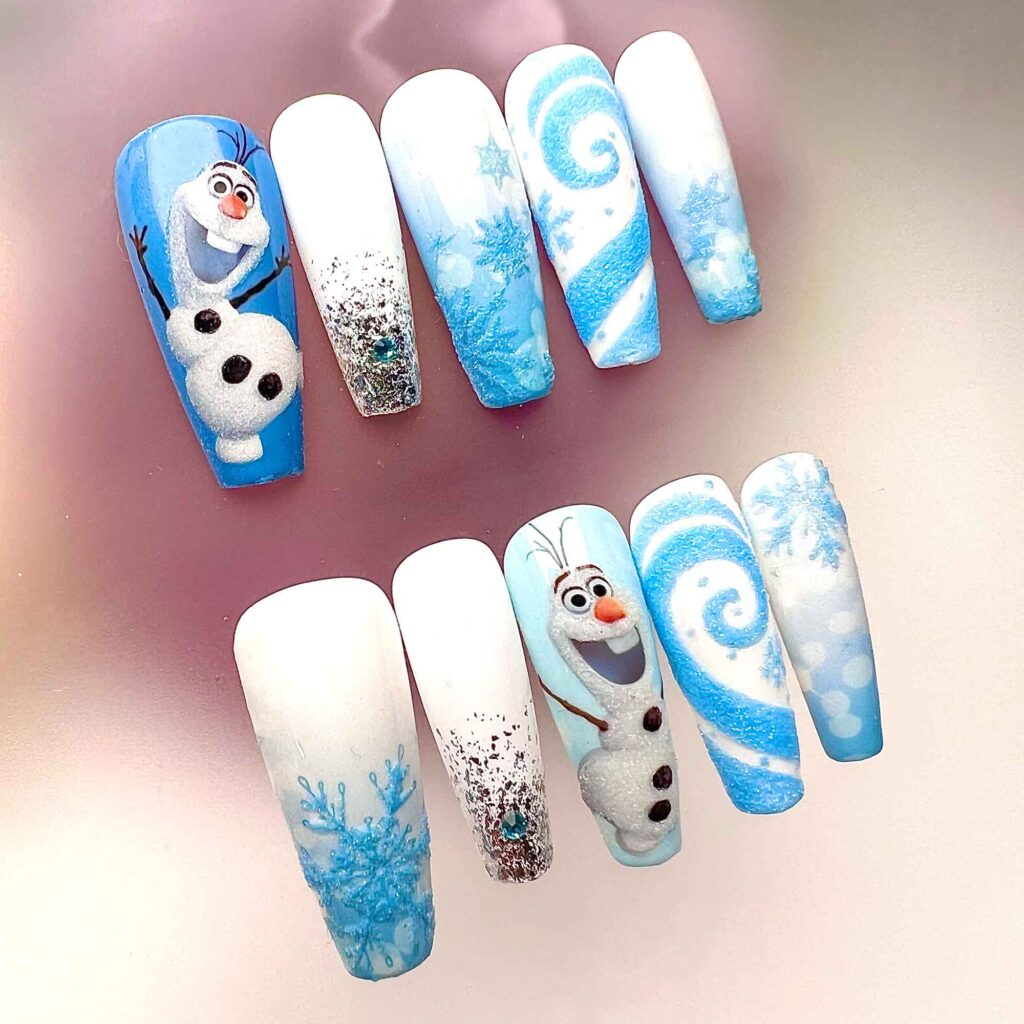 Well, well, well, look who's here! It's Cool Micky and her fabulous velvety texture press on nails! It seems like she's ready to take on the world with her perfectly manicured fingertips. I bet she can type faster than a cheetah chasing its prey with those things. With those nails, she could probably pick a lock, scratch an itch on her back, and tap dance all at the same time! Watch out folks, Cool Micky and her nails are not to be underestimated!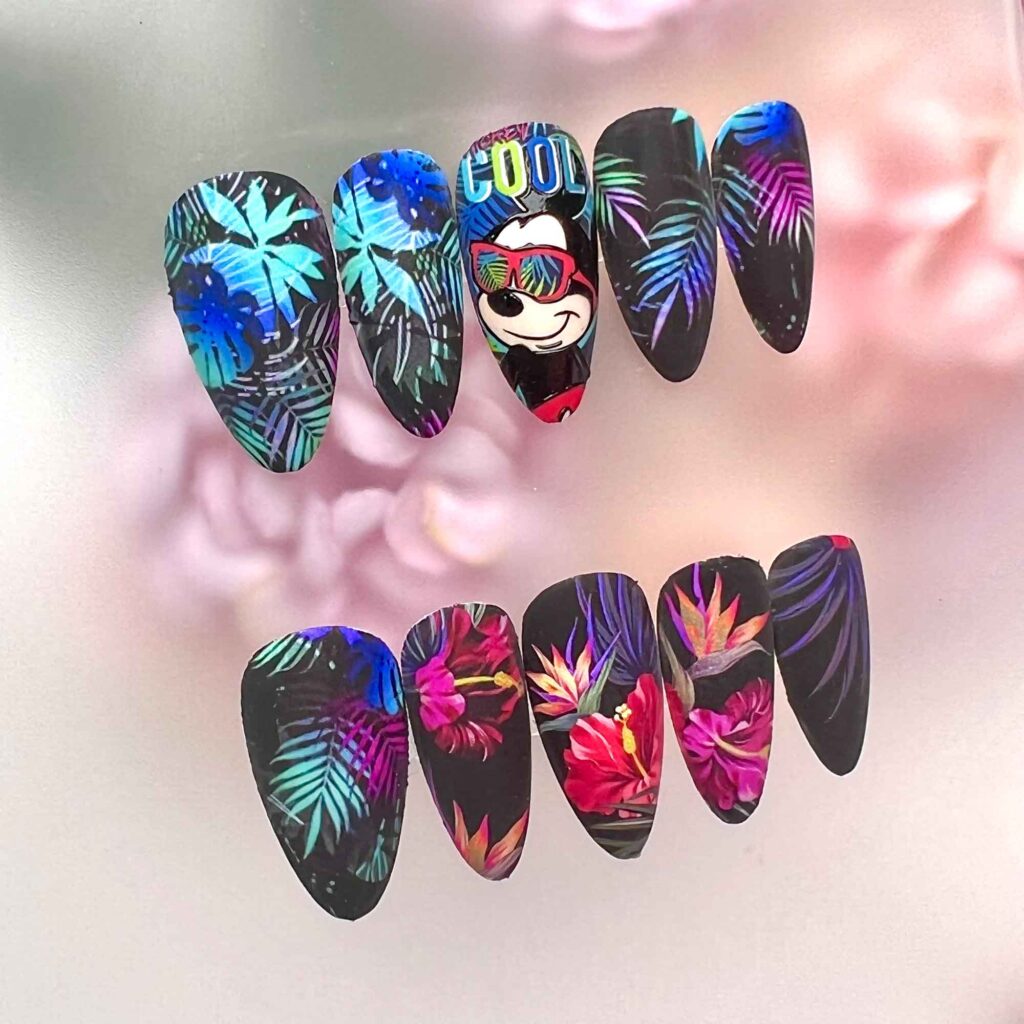 Ladies and gentlemen, boys and girls, it's time to get wild because Simba's got a new set of press-on nails that are giving us serious jungle fever! With a velvety texture and a paint splatter design inspired by the king himself, these nails are the mane attraction. I bet he could scratch his ear and give himself a mini-massage at the same time with those things. Who needs a pawdicure when you've got press-on nails like these? So let's give it up for Simba and his fierce fashion sense, because he's the real cat's meow!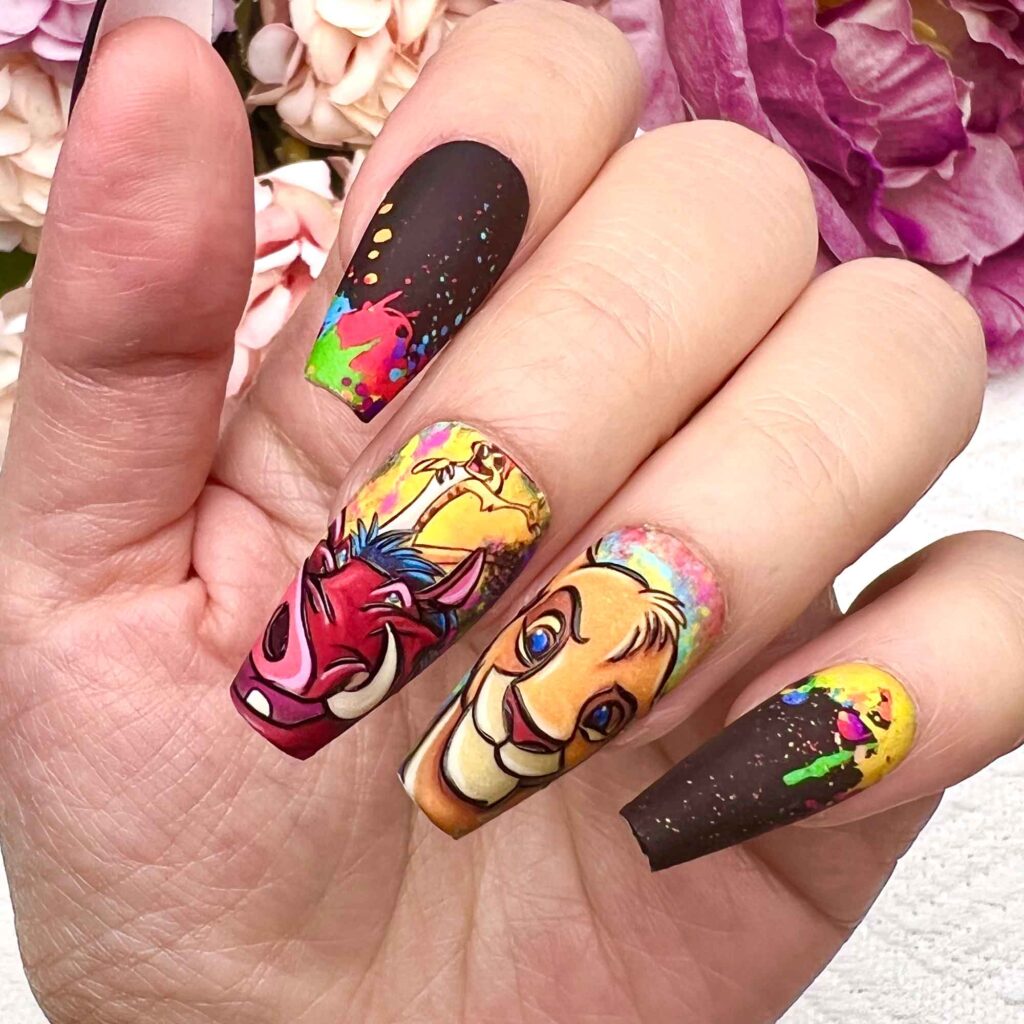 Looking for a fun and fuss-free way to jazz up your nails? Look no further than these jolly Mickey-themed press-on nails! With a velvety texture and paint splatter inspiration, these nails will have you feeling like a true Disney diva (or divo) in no time. Plus, you won't have to worry about smudging or chipping – just press 'em on and go!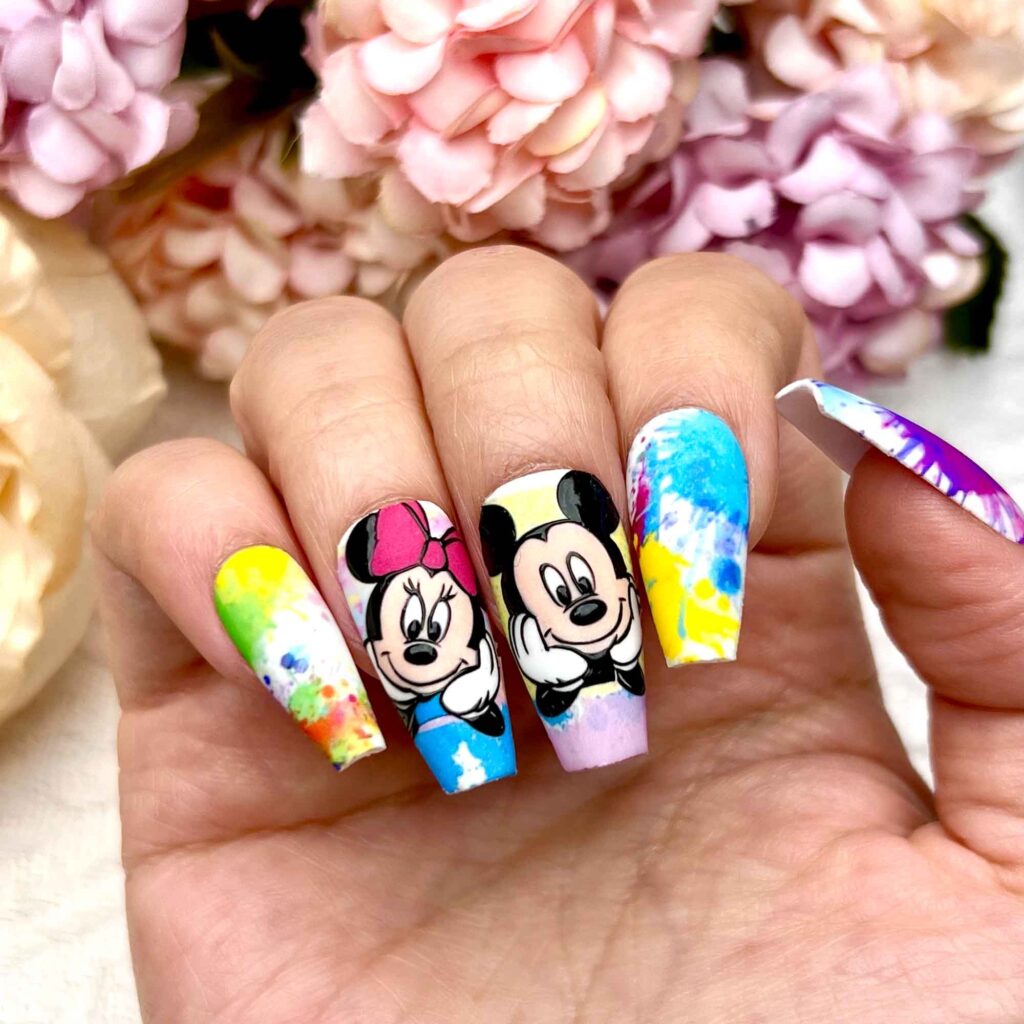 Ladies and gentlemen, get ready to feast your eyes on the latest fashion craze that's taking the world by storm – the Very Hungry Caterpillar inspired press on nails! These nails are so velvety and smooth, you'll be tempted to take a bite out of them like the caterpillar did with that juicy apple. And if you're feeling a little messy, don't worry – these nails are also splatter-painted, so you can express your inner artist while looking fabulous. So sit back, relax, and let the hungry caterpillar lead the way to some seriously stylish nail game.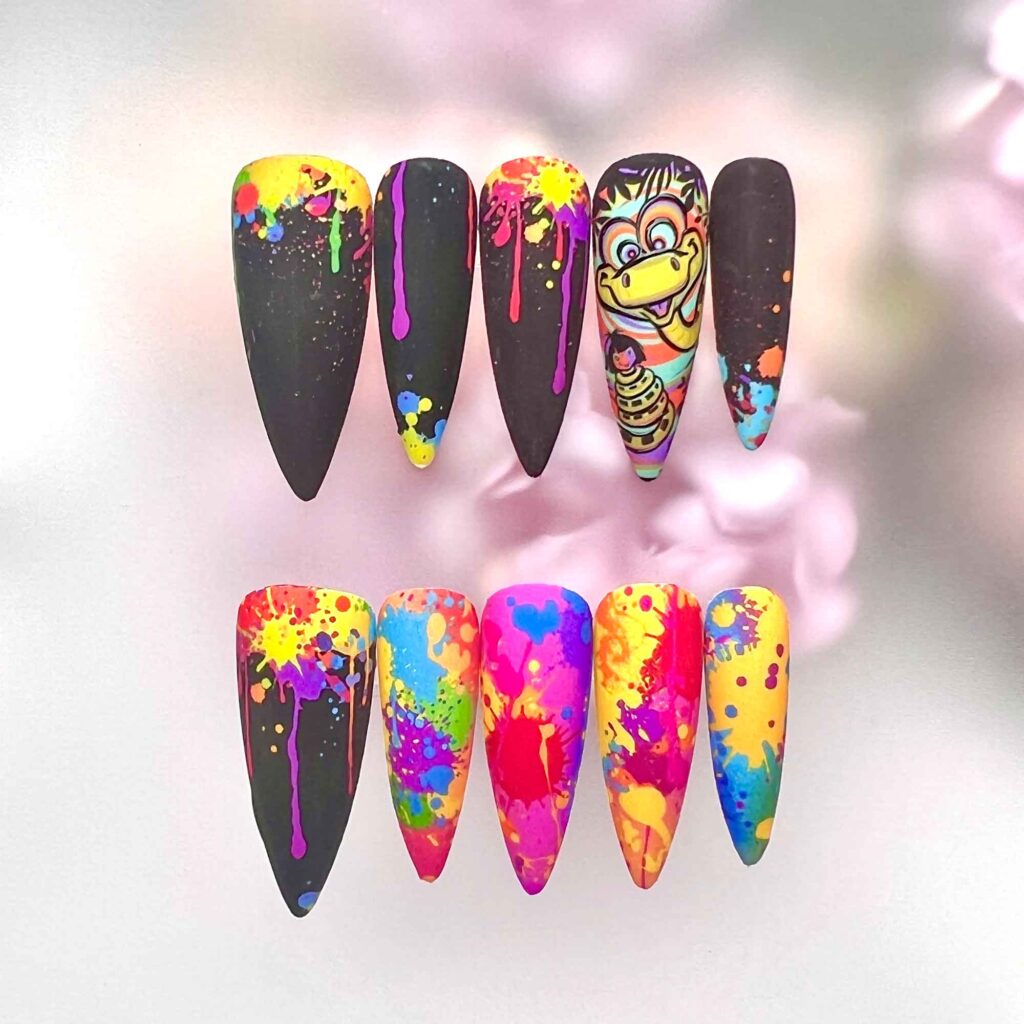 Welcome to the magical world of Press-On Nails, where the colors are as vibrant as Maria's personality and the shine is as dazzling as a blooming marigold! Just like the Book of Life, these nails tell a tale of beauty, style, and sass. So sit back, relax, and let the fun begin as we dive into the colorful world of Maria and her trusty sidekick, the blooming marigold. Because let's face it, life is too short for boring nails!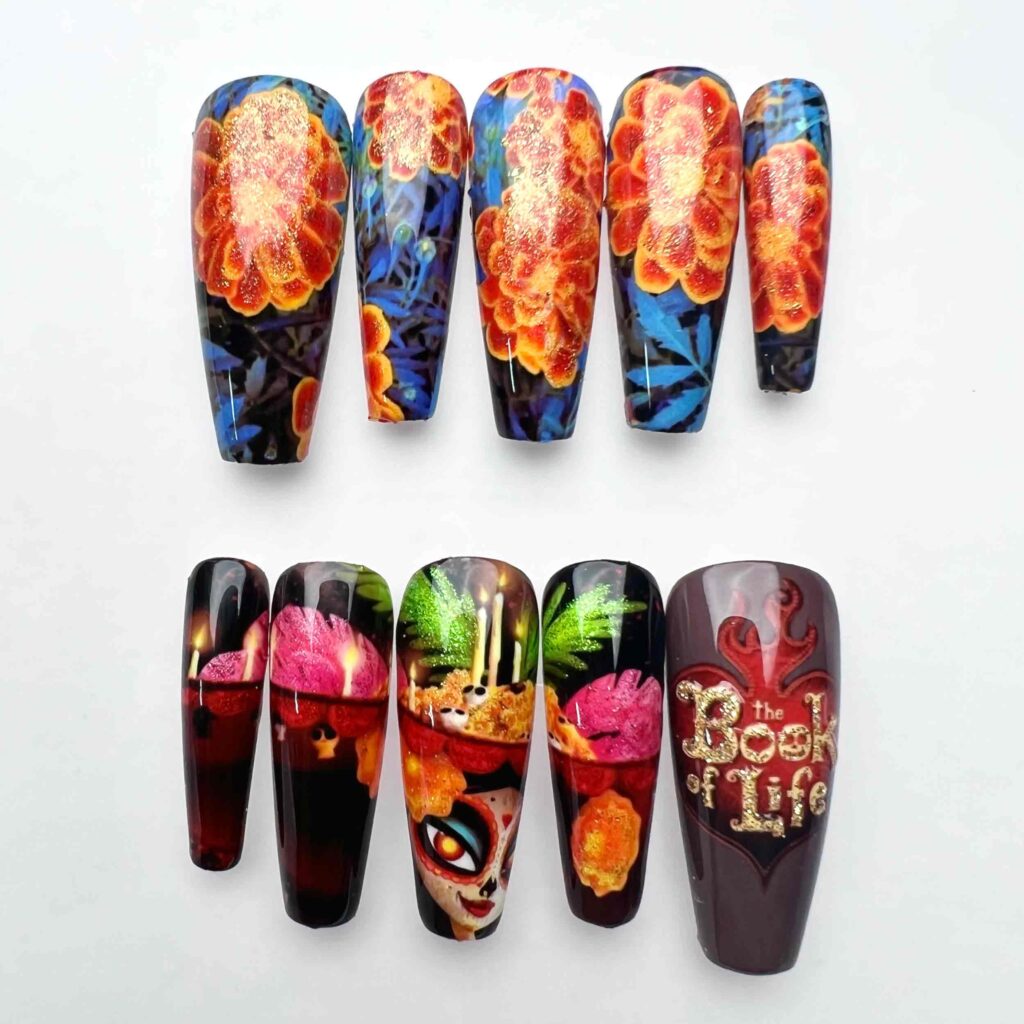 Greetings, my dear subject! Today, I have a royal proclamation to make – Queen Grimhilde, also known as The Evil Queen, has decided to switch to press-on nails! Yes, you heard that right. The queen who once ordered her huntsman to bring her Snow White's heart in a box, now prefers her nails in a box instead. I must say, it's a refreshing change from her usual hobbies of poisoning apples and conspiring against princesses. Who knows, maybe she'll start a new trend in the kingdom – the "Evil Queen Manicure". Stay tuned for more updates, my loyal subjects!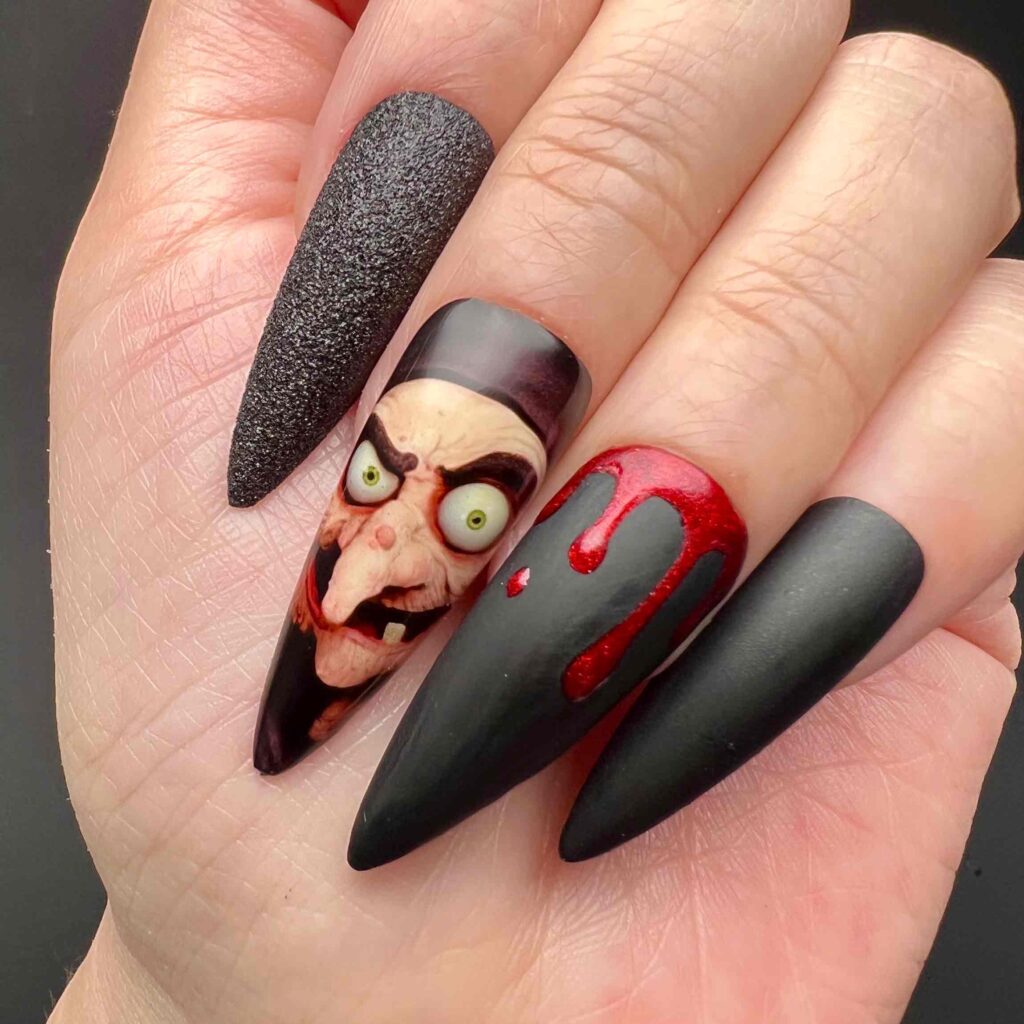 Ah, press on nails, the ultimate accessory for the fashion-forward citizen of Springfield! While Marge Simpson may not have been one to sport a set of press on nails, we can only imagine what would happen if Homer got his hands on a pair. Would he accidentally glue them to his forehead? Would they end up being used as ninja stars in a battle with Flanders? The possibilities are endless! So let's sit back, grab a Duff beer, and enjoy the hilarious mishaps that could arise from the world of press on nails in The Simpsons universe.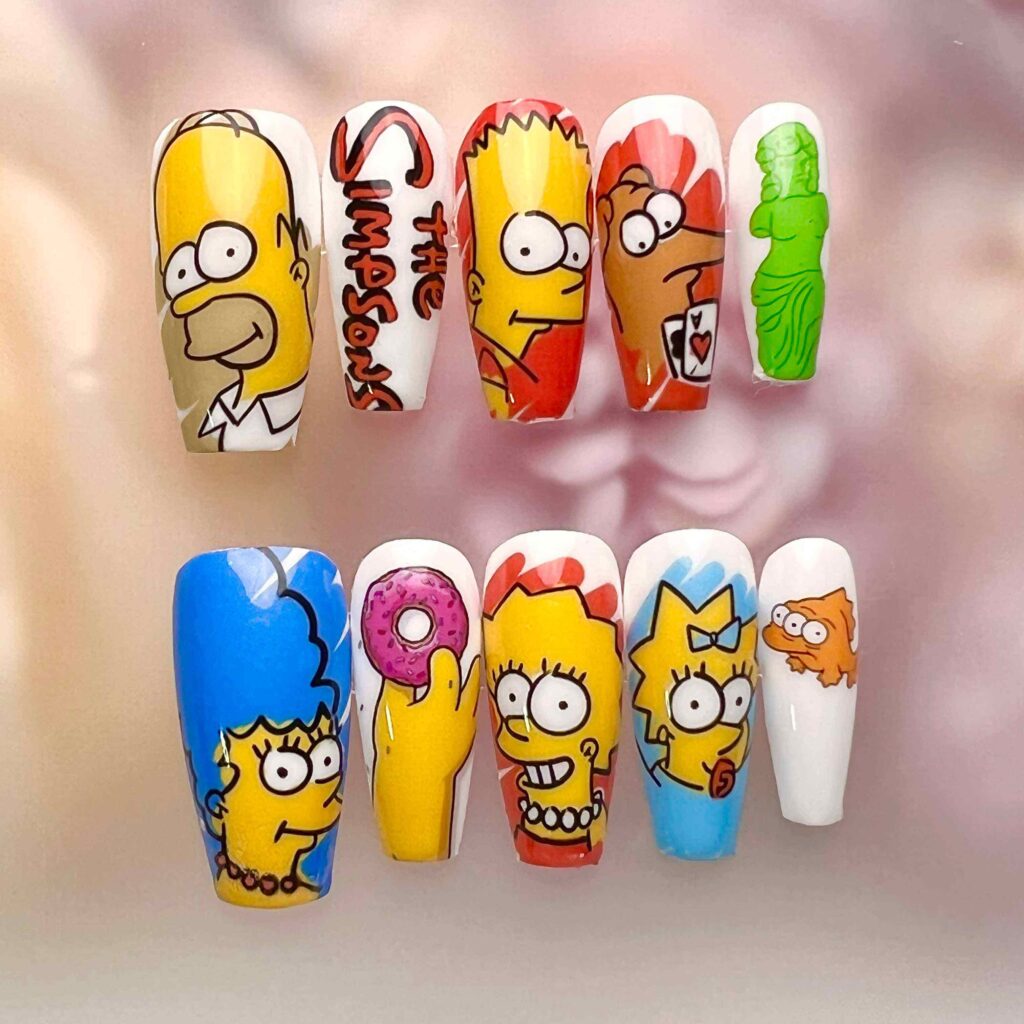 Are you ready to take your nail game to the next level? Introducing The Simpsons Surreal Nails – the perfect way to show off your love for The Simpsons and surrealism all at once!